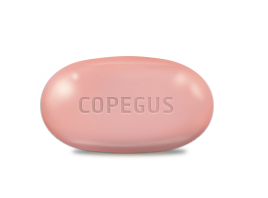 Active ingredient:
Copegus
Copegus - antiviral medicine. Quickly gets into cells and works in the cells infected with a virus. Most sensitive to a ribavtrin, DNA viruses - a herpes simplex virus, viruses of group of smallpox, Marek's disease; RNA viruses - influenza viruses A, B, paramyxoviruses (parainfluenza, epidemic parotitis, the Newcastle disease), reoviruses, oncogenous RNA viruses.
We accept:
Other names for this medication

Delivery period
14-21 days
$9.95
Tracking# available in 14 days

Delivery period
14-21 days
$29.95
Tracking# available in 5 days
Availability:
In Stock 85 packs
Copegus 200mg
| Package | Per pill | Total price | Save | Order |
| --- | --- | --- | --- | --- |
| 200mg x 30 Pills | $7.90 | Free Trackable Delivery | - | Add to cart |
| 200mg x 60 Pills | $6.46 | Free Trackable Delivery | $86.40 | Add to cart |
| 200mg x 90 Pills | $6.07 | Free Trackable Delivery | $164.70 | Add to cart |
Package Example
Your order will be packed safe and secure and dispatched within 24 hours. This is exactly how your parcel will look like (pictures of a real shipping item). It has a size and a look of a regular private letter (9.4x4.3x0.3 inches or 24x11x0.7cm) and it does not disclose its contents
Front View
Side View
Back View
Copegus - product description
---
Copegus is an antiviral drug of direct action, which is prescribed for the control of chronic hepatitis C.
The main active substance of the drug is ribavirin, a synthetic analog of nucleoside acid.
Copegus - safety information
---
Contraindications:
The drug should not be taken to persons with hypersensitivity to ribavirin or any of the components of the drug
Also, Copegus is contraindicated in such cases:
• Persons who have not reached adulthood;
• Hereditary or congenital alteration or disruption of the structure of the hemoglobin protein.
• Decompensation of liver function, when cells begin to decompose and perform their functions;
• Cirrhosis of the liver with decompensated function (6 points or more in patients with co-infection with HIV-Hepatitis C on the Child-Pugh scale)
• Severe depression and suicidal moods
• Copegus should not be used by men whose partners are pregnant.
Overdose
There were no reports of overdose during clinical trials. The decrease in the level of calcium and magnesium is described in people who took Copegus in doses, 4 times higher than the maximum recommended. Copegus is not removed during hemodialysis. Treatment, in this case, will be symptomatic
Interaction With Other Medicines And Alcohol:
Because the drug is highly toxic, it is forbidden to take it with alcohol. Also, pay special attention to the combination of Copepus with other medicines, as this can be dangerous to health. Before choosing a drug for treatment, you need to consult a doctor who will determine if you can take the drug. Perhaps the expert will assign you something different - it all depends on your condition.
Copegus should not be taken during pregnancy, as this can damage the health of the unborn child. To make an exception can only be if the mother's condition is very painful and she urgently needs Copegus therapy, and the health benefits are more important than the health benefits of the child.
The drug seeps into breast milk, so during lactation, it is necessary to make a choice in either favor of treatment without breastfeeding or stop the medication.
In individual cases, when the benefit of the combined use of ribavirin and azathioprine is greater than the potential risk, the blood counts should be closely monitored, and in the appearance of signs of the damaging effect of chemotherapy on the hematopoietic tissue of the bone marrow, stop treatment.
Copegus - side effects
---
Taking the drug may cause the following side effects: anorexia, weight loss, insomnia, irritability, depression, loss of concentration, headache, dizziness, shortness of breath, cough, nausea, diarrhea, abdominal pain, hair loss, itching, dermatitis, dry skin , myalgia, arthralgia, weakness, fever, chills, asthenia, pain, oral infections, anemia, bone pain, sweating, oral infections, flu, arrhythmia, pressure decrease, Stevens-Johnson syndrome, retinal detachment, dehydration Ivanov.
You have to visit your doctor and ask all the questions about using Copegus before starting the course of therapy.