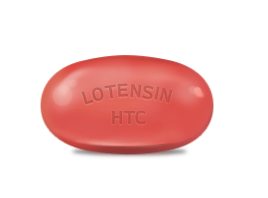 Active ingredient:
Benazepril
ACE inhibitor. After hydrolysis, Benazepril is converted to an active metabolite, benazeprilate, which inhibits ACE and thereby blocks the conversion of angiotensin I to angiotensin II and reduces the vasoconstrictive effect of angiotensin II and its stimulating effect on aldosterone production. Due to the venodilating effect, it also reduces the preload on the heart. Effective for arterial hypertension, CHF (as part of combination therapy)
We accept:
Other names for this medication

Delivery period
14-21 days
$9.95
Tracking# available in 14 days

Delivery period
14-21 days
$29.95
Tracking# available in 5 days
Availability:
In Stock 53 packs
Lotensin 10mg
| Package | Per pill | Total price | Save | Order |
| --- | --- | --- | --- | --- |
| 10mg x 60 Pills | $0.93 | | - | Add to cart |
| 10mg x 90 Pills | $0.80 | | $11.70 | Add to cart |
| 10mg x 120 Pills | $0.74 | | $22.80 | Add to cart |
| 10mg x 180 Pills | $0.68 | | $45.00 | Add to cart |
| 10mg x 270 Pills | $0.64 | | $78.30 | Add to cart |
| 10mg x 360 Pills | $0.61 | Free Trackable Delivery | $115.20 | Add to cart |
Package Example
Your order will be packed safe and secure and dispatched within 24 hours. This is exactly how your parcel will look like (pictures of a real shipping item). It has a size and a look of a regular private letter (9.4x4.3x0.3 inches or 24x11x0.7cm) and it does not disclose its contents
Front View
Side View
Back View
Lotensin Product Description
---
Drug Uses
The antihypertensive agent Lotensin is used for the treatment of people, who are really suffering from high blood pressure. Typically, Lotensin pills are used to treat mild to moderate hypertension, but if necessary, may provide substantial benefits in severe type of the disease.
Response to hypertension treatment with Lotensin pills implies long control of blood pressure and reduced risk of heart attack and stroke. For stabilizing the blood pressure, 20 to 40 mg of Lotensin should be taken per day in single or multiple doses.
The minimum dosage is 10mg Lotensin at intervals of 24 hours. The antihypertensive drug is prescribed to children older than 6 years based on their body weight (0,2-0,6mg/kg). The adults should take no more than 2 Lotensin pills 40mg per day.
Missed Dose
If you forget to take a dose of Lotensin, take it as soon as possible. Do not use a double dose of this antihypertensive agent in a case if there is almost time of your next prescribed dose.
More Information
The effectiveness of the antihypertensive therapy may increase, if you use Lotensin pills with diuretics. The minimum Lotensin dosage in the combined treatment of high blood pressure is 5 mg per day.
Storage
Keep Lotensin in an original tightly closed container at room temperature below 30°C. Lotensin tablets must be protected from heat, light and moisture.
Lotensin Safety Information
---
Warnings
Women of childbearing age, with regular sex activity, should use reliable contraceptives, when taking Lotensin. If the pregnancy test was positive, you must immediately stop taking the antihypertensive agent Lotensin.
Disclaimer
The information about the management of hypertension and high blood pressure, provided in this review study on Lotensin, is for informational purposes only and does not serve as a substitute for personal advice from a licensed occupational physician. The online pharmacy is not liable for any kind of damage or loss, resulting from the misinterpreting and misusing of this material about antihypertensive agent Lotensin.
Lotensin Side Effects
---
All the undesirable effects, which manifest during treatment with Lotensin, have a soft flowing nature and are not conditioned by the age and sex of the patient, as well as the duration of treatment and dosage of this antihypertensive agent. A total of about 5% of withdrawals of Lotensin use was registered because of the undesirable effects. The patients taking Lotensin pills, most often complain of such undesirable effects, like cough, dizziness, headache and somnolence.